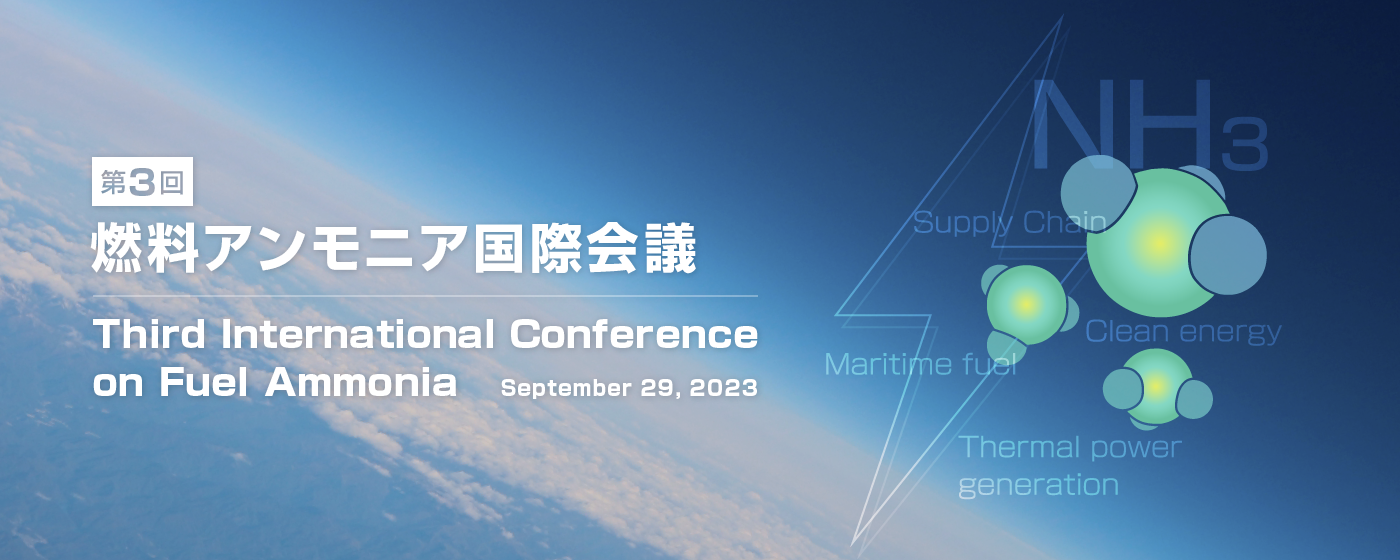 Conference Information
Date

Wednesday, September 28, 2022, 18:00 - (JST, +0900)

Venue

Online (LIVE streaming)

Language

English / Japanese (Simultaneous interpretation)

Organizer

Ministry of Economy, Trade and Industry (METI)
Clean Fuel Ammonia Association (CFAA)
Conference Outline
In order to establish stable, low-cost, flexible supply chains and markets for fuel ammonia as a zero-emission fuel, the International Conference on Fuel Ammonia (ICFA) will be held with the participation of related countries, businesses and organizations. The aim is to build the foundation for international collaboration among related parties that transcends national boundaries.
Following our first Conference in 2021, the development of initiatives on production, supply and utilization of ammonia fuels worldwide has been remarkable, particularly in Asia and other regions where concrete studies for power generation have already been undertaken. The purpose of the Conference is to learn about these efforts made and, furthermore, to enable a deep understanding of the future direction for the fuel ammonia supply chain and its market.
As you will be aware, the Conference is held as a part of Tokyo GX Week which the Ministry of Economy, Trade and Industry is organizing this fall targeting green transformation (GX). This is the realization of economic growth led by a reduction of emissions resulting from the shift in industry to a clean energy-centered economy and society.
Program
Session 1: Government Session
Opening Remarks

Mr. NISHIMURA Yasutoshi
Minister of Economy,
Trade and Industry (METI)
(Japan)
Message

H.E. Arifin Tasrif
Minister of Energy and Mineral Resources
(Republic of Indonesia)
Message

H.E. Ms. Inga M. W. Nyhamar
Ambassador
(Norway)
Session 2: International Agency / Research Institute Session
Message

Keisuke SADAMORI
Director, Energy Markets and Security
International Energy Agency (IEA)
Role of low-emissions fuels in managing seasonal variability of renewables

Dr. Paolo Frankl
Head, Renewable Energy Division
International Energy Agency (IEA)
Co-firing of Clean Ammonia for Decarbonization in Asia

TERAZAWA Tatsuya
Chairman and CEO
The Institute of Energy Economics, Japan
Session 3: Industry Session 19:00 - (JST, +0900)
Topic 1: Signing of memorandum of understanding (TBC)
Topic 2: Initiatives to Realize the Use of Ammonia Power Generation
JERA's CO2 Zero-Emission Challenge for Ammonia-fueled Generation and Building Fuel Ammonia Supply Chain

ONODA Satoshi
JERA Co., Inc.
President
Fuel Ammonia Value Chain: The Key to Achieving Carbon Neutrality

IDE Hiroshi
IHI Corporation
President
Chief Executive Officer
MHI Group Activities to Establish Ammonia Value Chain for Fuel Use

MATSUDA Hiroshi
Mitsubishi Heavy Industries, Ltd.
Senior Vice President
Technical Feasibility of Co-Firing Ammonia and Sub-Bituminous Coals in a Pilot-scaled Combustor

DR MOHD HARIFFIN BOOSROH
TNB Research Sdn Bhd. (Malaysia)
Managing Director
Green Ammonia for Power Sector in Indonesia

Dr. Zainal Arifin
PT PLN (Perseno) (Republic of Indonesia)
Executive Vice President for Engineering and Technology
The potential role of green ammonia in India's net-zero transition

Arun Kumar Sharma
Adani Group (India)
Group Head for Sustainability and Climate Change
Topic 3: Development of a Fuel Ammonia Supply Chain
Mitsui's and CF Industries' strategies for a sustainable clean ammonia supply chain

FURUTANI Takashi
MITSUI & CO., LTD.
Executive Managing Officer, Chief Operating Officer, Basic Materials Business Unit

Erik M. Mayer
CF Industries Holdings, Inc.
(United States of America)
Vice President, Clean Energy Solutions
Initiatives by Mitsubishi Corporation for establishment of fuel ammonia supply chain

HABA Hiroki
Mitsubishi Corporation
Senior Vice President Division COO,
Next Generation Fuels & Petroleum Business Div.
Petroleum & Chemicals Solution Group
EX Taskforce
Nutrien Clean Ammonia

Ashley Harris
Nutrien Ltd. (Canada)
Vice President of Environmental Performance and Innovation
Yara Clean Ammonia Introduction - Clean Ammonia Supply Chain to Japan

Magnus Ankarstrand
Yara International ASA
(Norway)
President of Yara Clean Ammonia
Building a low carbon energy business with traceable emissions across the value-chain

Olivier G. Thorel
Saudi Aramco (Saudi Arabia)
Vice President, Chemicals
Woodside supporting Japan's decarbonisation goals through investment and strategic partnerships

Maria Gonzalez-Perez
Woodside Energy Ltd. (Australia)
VP Business Development New Energy
Topic 4: Initiatives for Various Use of Fuel Ammonia and Support for Expanding Supply
Draft Definition of Clean Ammonia (Interim Summary)

HOSONO Koji
Clean Fuel Ammonia Association
Leader, Certification Working Group
Mitsubishi Corporation
Decarbonization of Shipping with Ammonia as Marine Fuel

NAKAMURA Toshi
NYK Line
Executive Officer
Contribution to Materialize Economical Clean Fuel NH3 Supply Chain

ITO Kenji
JGC CORPORATION
Executive Officer
President, Sustainable Solutions

HOSOI Eiji
TOYO ENGINEERING CORPORATION
Senior Executive Officer
Unit Director, Plant Solution Business Unit
JOGMEC's Approach toward Fuel Ammonia Value Chain Realization

WAKUDA Hajime
Japan Oil, Gas and Metals National Corporation
President
JBIC's Strategic Approaches for Seamless Support toward Global Fuel Ammonia Supply Chain

INABA Yutaka
Japan Bank for International Cooperation
Managing Executive Officer, Global Head of Energy and Natural Resources Finance Group
Session 4: Closing Session
Summary Statement & Closing Remarks

MURAKI Shigeru
Clean Fuel Ammonia Association
President
Tokyo Gas Co., Ltd., Executive Advisor
* Program details are to be updated accordingly.